Post con tag
vintage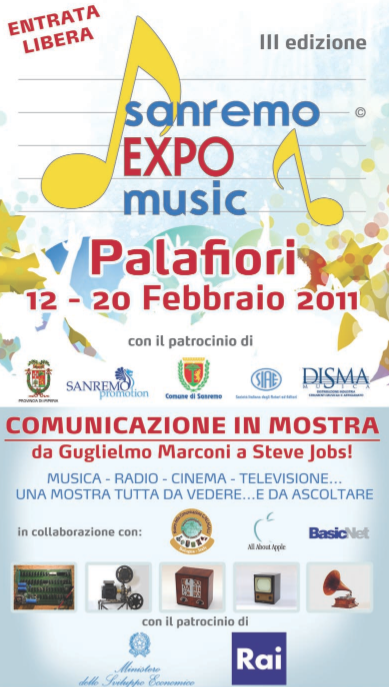 "In Mostra – da Guglielmo Marconi a Steve Jobs!" è la nuova mostra iniziata Sanremo, dal 12 al 20 febbraio  durante la settimana del Festival della Canzone Italiana. La mostra è organizzata dalla Kismet in collaborazione con Museo G. Pelagalli, Museo All About Apple e BasicNet ed è stata inaugurata da Gianni Morandi. Tra le cose più interessanti vi è il settore "Il Mondo Apple di Steve Jobs" con pezzi rari che hanno fatto la storia della Apple.  E' esposto anche l'APPLE I, il primo personal computer prodotto da Apple: in giro per il mondo ce ne sono solamente 50! L'appuntamento è dal 12 al 20 febbraio 2011 al Palafiori di Sanremo in Corso Garibaldi, a 200 metri dal Teatro Ariston, la mostra sarà visitabile con il seguente orario: Sabato 12 febbraio – (inaugurazione ufficiale) ore 16.00-19.00 Da domenica 13 a domenica 20 febbraio 2011 dalle ore 10.00 alle 19.00 . Per maggiori info cliccate qui.
Technology and Hack
Negli ultimi anni sono state sviluppate molte applicazioni per i filtri vintage per le foto dell'iPhone. Il settore video, invece, è stato un po' trascurato. Tra le applicazioni che permettono di registrare video retrò c'è 8mm Vintage Camera che simula, appunto, le vecchie videocamere a pellicola da 8 millimetri.
All'interno sono presenti 5 tipi di lenti e 5 tipi di pellicola per effetti bianco e nero, graffiati, frame mancanti e così via. Il risultato finale si può salvare nella libreria, condividere su YouTube o inviare via email. Con gli iPhone 4, inoltre, si può usare anche la fotocamera frontale e il flash.
8mm Vintage Camera potete acquistarla al prezzo di 1,59 € cliccando qui
Lo Staff di Technology and Hack Augura Buone Feste!!