Post con tag
uk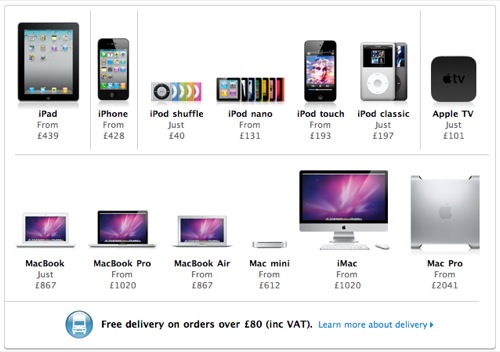 Stamani diversi Apple Store online dei paesi europei (tra cui UK, Francia, Spagna, Portogallo, Italia) sono stati irraggiungibili per diverse ore, come accade di solito per operazioni di manutenzione e/o aggiornamenti e introduzioni di nuovi prodotti.
Le speculazioni per l'introduzione di nuovi prodotti sono state quasi subito scartate dal fatto che gli store del Nord America e dell'Asia erano perfettamente funzionanti. Infatti, questa volta si è trattato di un aumento dei prezzi per quanto riguarda lo store della Gran Bretagna.
Non per chissà quale dispetto nei confronti dei cittadini del Regno Unito, ma semplicemente per un adeguamento del listino in seguito all'aumento del VAT (equivalente dell'IVA italiana) dal 17,5% al 20%, a partire proprio da oggi. Di conseguenza, i prezzi sono stati aumentati per rispecchiare la differente aliquota fiscale.
Come si può facilmente intuire dall'esiguo aumento di 2,5 punti percentuali, l'adeguamento dei prezzi non è sconvolgente. Per fare qualche esempio, un iPhone 4 da 16GB costa 11 sterline in più mentre un iPad 16GB (solo Wi-Fi) 10 sterline in più. L'impatto è leggermente più evidente sui computer: i MacBook Pro e gli iMac hanno subito un aumento minimo di 21 sterline, mentre per acquistare un Mac Pro saranno necessarie almeno 40 sterline in più.
Diversi addetti ai lavori si aspettavano che Apple avrebbe lasciato inalterati i prezzi al pubblico anche a fronte di un aumento delle tasse, poiché il margine è già superiore rispetto agli Stati Uniti. Tuttavia, evidentemente per coerenza, un recente aumento del GST in Nuova Zelanda dal 12,5% al 15% si era tradotto in un adeguamento dei prezzi anche per i clienti oceanici.
Non risulta tuttavia chiaro il motivo per cui è stato scelto di interrompere il servizio in molti altri paesi europei che non hanno subito alcun aumento dei prezzi di listino.
Technology and Hack
So, everybody has a Facebook page now: your parents, your next door neighbor's cat, and now even the Queen of England… or more specifically, the British Monarchy. Yes, the Crown of England has launched an official fan page for itself on everybody's favorite and most hated social network. Apparently, the page managed to rake in over 40,000 likes in its first hour of operation — no small feat considering it took Miley Cyrus something like three days to get that many. Regardless, the Queen is posting tons of candid photos and we're hoping to get some videos of her getting crazy with the Cheez Whiz any day now; we'll let you know if / when they appear.
Tech&Hack
Microsoft has chosen the small hours of the night to announce pricing of its second Kinect bundle, which is set for launch along with the standalone and 4GB options on November 4 in the USA and November 10 across Europe. The new package throws in the 250GB slim version of the Xbox 360 to accompany the newfangled motion tracker and a copy of the utterly unmissable Kinect Adventures! (it has its own punctuation, it must be good). Pricing is a bit on the painful side, with Kotaku reporting a $399 figure for the US and Microsoft confirming to us a £300 sticker for this "special edition" bundle for the UK. Full press release follows after the break.
Tech&Hack