Post con tag
new
So what could be so big from iTunes that Apple dedicates the homepage to it?  Check back as this story develops
Tech&Hack
Barron's reports on a new research note from BMO Capital analyst Keith Bachman claiming multiple new product releases for Apple next month, including several iPods as expected and two new MacBook Air models said to be scheduled to ship in high volumes.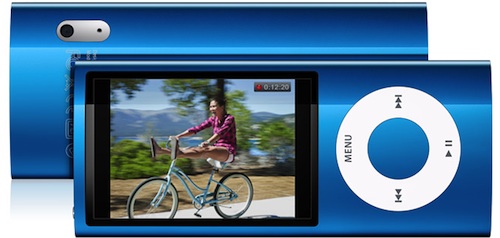 For Apple's iPod line, Bachman reports that the company will launch a new iPod touch, as well as a smaller iPod nano that could see the elimination of the iPod shuffle.
For starters, he sees the company launching two new iPods in September – a new Touch, and a new Nano. He says the Nano will be "much smaller" than past versions, and won't have a physical track wheel.
The elimination of a physical navigation wheel would imply a move to a touch screen, and it is unclear what sort of interface Apple would use on such a device. A claimed 1.7-inch Apple touch screen surfaced early last month, but that screen would be significantly smaller than the current iPod nano's 2.2-inch screen and its square aspect ratio would be a very significant departure from the current iPod nano's widescreen display useful for handling video shot with the device's integrated camera.

Bachman also matter-of-factly reports that Apple will launch two new MacBook Air models next month.
"We are not yet clear on all the specs, but supply chain checks suggest that unit shipments of the new Air products could far exceed the current Air, which we believe could suggest lower starting prices," he writes.
According to our Buyer's Guide, the MacBook Air is long overdue for an update, having last seen a refresh in June 2009.One report has claimed that the MacBook Air will see a shift to an 11.6-inch display from the current 13.3-inch screen size in a revision set to debut before the end of the year.
Tech&Hack
Warning
: Creating default object from empty value in
/membri/techandhack/blog/wp-includes/comment-template.php
on line
1016

313diggsdiggSo shall it be written, so shall it be done. The Mac Pro has at long last proven rumors of its impending refresh accurate, as Apple has just updated its most powerful hardware with even more grunt. As we'd heard previously, that means you can now get dual-CPU rigs that offer a full dozen cores to play with, courtesy of Intel's Xeon server-class chips, though in order to get in on that game you'll have to splash a cool $4,999 entry fee. The quad-core starting price is still $2,499, though the eight-core machines have jumped up to $3,499, with both variants getting mild speed bumps to 2.8GHz and 2.4GHz, respectively.
Perhaps the most welcome upgrade is on the graphical front, where the Radeon HD 5770 takes up the mantle of default GPU, with additional options for a pair of such cards or a step up to a 1GB HD 5870 alternative if you're keen on maxing out those frame rates. Memory isn't neglected either, with choices ranging all the way up to 32GB of RAM, 4TB of conventional HDD storage, or an array of four 512GB SSDs — though you're probably better off not asking how much that last one will set you back. The comprehensive specs can be found in the full press release after the break.
Press release:

"Apple Unveils New Mac Pro With Up to 12 Processing Cores

CUPERTINO, California-July 27, 2010-Apple® today unveiled a new Mac® Pro line with up to 12 processing cores and up to 50 percent greater performance than the previous generation.* Featuring the latest quad-core and 6-core Intel Xeon processors, all-new ATI graphics and the option for up to four 512GB solid state drives (SSD), the new Mac Pro continues to deliver amazing performance and expandability for the most demanding consumers and professionals.
"The new Mac Pro is the most powerful and configurable Mac we've ever made," said Philip Schiller, Apple's senior vice president of Worldwide Product Marketing. "With up to 12 cores, the new Mac Pro outperforms our previous top-of-the-line system by up to 50 percent, and with over a billion possible configurations, our customers can create exactly the system they want."
At the heart of the new Mac Pro's performance are next generation quad-core and 6-core Intel Xeon processors running at speeds up to 3.33 GHz. These multi-core processors use a single die design so each core can share up to 12MB L3 cache to improve efficiency while increasing processing speed. These systems feature an integrated memory controller for faster memory bandwidth and reduced memory latency; Turbo Boost to dynamically boost processor speeds up to 3.6 GHz; and Hyper-Threading to create up to 24 virtual cores. The Mac Pro now comes with the ATI Radeon HD 5770 graphics processor with 1GB of memory and customers can configure-to-order the even faster ATI Radeon HD 5870 with 1GB of memory.
For the first time, Mac Pro customers have the option to order a 512GB SSD for the ultimate in reliability and lightning fast performance. With the ability to install up to four SSD drives in the system's internal drive bays, the new Mac Pro can provide ultra high-speed disk bandwidth and random disk performance, two times faster than the average performance of a standard disk drive.** Mac Pro also now features two Mini DisplayPorts and one dual-link DVI port. The additional Mini DisplayPort output allows customers to connect two LED Cinema Displays without an additional graphics card or adapter and the dual-link DVI port supports legacy DVI-based displays up to a resolution of 2560 x 1600 pixels.
Every Mac Pro comes with Apple's innovative Magic Mouse and customers can also order Apple's new Magic Trackpad as an option. The Magic Trackpad brings the intuitive Multi-Touch™ gestures of Mac notebook trackpads to the desktop. With its glass surface, the wireless Magic Trackpad allows users to scroll smoothly up and down a page with inertial scrolling, pinch to zoom in and out, rotate an image with their fingertips and swipe three fingers to flip through a collection of web pages or photos. The Magic Trackpad can be configured to support single button or two button commands and supports tap-to-click as well as a physical click. Magic Trackpad is available separately for $69.
Continuing Apple's commitment to the environment, Apple's desktop lineup is a leader in green design. The Mac Pro meets stringent Energy Star 5.0 requirements and achieves EPEAT Gold status.*** The Mac Pro enclosure is made of highly recyclable aluminum and the interior is designed to be more material-efficient. The Mac Pro uses PVC-free internal cables and components and contains no brominated flame retardants. The new Apple Battery Charger provides a convenient and environmentally friendly way to always have a fresh set of batteries for your Magic Trackpad, Magic Mouse and Wireless Keyboard. The Apple Battery Charger is available as an option for $29 and comes with six long shelf life rechargeable batteries.
Every Mac also comes with Mac OS® X Snow Leopard®, the world's most advanced operating system, and iLife®, Apple's innovative suite of applications for managing photos, making movies and creating and learning to play music. Snow Leopard builds on a decade of OS X innovation and success with hundreds of refinements, core technologies and out of the box support for Microsoft Exchange. iLife features iPhoto®, with breakthrough ways to organize and manage your photos by who appears in them and where they were taken; iMovie® with powerful easy-to-use features such as Precision Editor, video stabilization and advanced drag and drop; and GarageBand® which offers a whole new way to help you learn to play piano and guitar.
Optional Apple professional applications include Aperture®, Final Cut® Express, Final Cut Studio®, Logic® Express and Logic Studio®.
Pricing & Availability
The new Mac Pro will be available in August through the Apple Store® (www.apple.com), Apple's retail stores and Apple Authorized Resellers.
The new quad-core Mac Pro, with a suggested retail price of $2,499 (US), includes:
one 2.8 GHz Quad-Core Intel Xeon W3530 processor with 8MB of fully-shared L3 cache;
3GB of 1066 MHz DDR3 ECC SDRAM memory, expandable up to 16GB;
ATI Radeon HD 5770 with 1GB of GDDR5 memory;
two Mini DisplayPorts and one DVI (dual-link) port (adapters sold separately);
1TB Serial ATA 3Gb/s hard drive running at 7200 rpm;
18x SuperDrive® with double-layer support (DVD±R DL/D
VD±RW/CD-RW);
four PCI Express 2.0 slots;
five USB 2.0 ports and four FireWire® 800 ports;
AirPort Extreme® 802.11n;
Bluetooth 2.1+EDR; and
Apple Keyboard with numerical keypad and Magic Mouse.
The new 8-core Mac Pro, with a suggested retail price of $3,499 (US), includes:
two 2.4 GHz Quad-Core Intel Xeon E5620 processors with 12MB of fully-shared L3 cache per processor;
6GB of 1066 MHz DDR3 ECC SDRAM memory, expandable up to 32GB;
ATI Radeon HD 5770 with 1GB of GDDR5 memory;
two Mini DisplayPorts and one DVI (dual-link) port (adapters sold separately);
1TB Serial ATA 3Gb/s hard drive running at 7200 rpm;
18x SuperDrive with double-layer support (DVD±R DL/DVD±RW/CD-RW);
four PCI Express 2.0 slots;
five USB 2.0 ports and four FireWire 800 ports;
AirPort Extreme 802.11n;
Bluetooth 2.1+EDR; and
Apple Keyboard with numerical keypad and Magic Mouse.
Configure-to-order options include:
one 3.2 GHz Quad-Core Intel Xeon W3565 processor for the quad-core Mac Pro;
one 3.33 GHz 6-core Intel Xeon W3680 processor for the quad-core Mac Pro;
two 2.66 GHz 6-core Intel Xeon X5650 processors (12-cores) for the 8-core Mac Pro;
two 2.93 GHz 6-core Intel Xeon X5670 processors (12-cores) for the 8-core Mac Pro;
two ATI Radeon HD 5770 cards with 1GB of GDDR5 memory;
one ATI Radeon HD 5870 card with 1GB of GDDR5 memory;
up to 16GB of DDR3 ECC SDRAM memory for the quad-core Mac Pro;
up to 32GB of DDR3 ECC SDRAM memory for the 8-core Mac Pro;
up to four 512GB solid state drives (SSD); or
up to four 1TB or 2TB Serial ATA hard drives running at 7200 rpm;
Mac Pro RAID card;
dual-channel or quad-channel 4Gb Fibre Channel card; and
up to two 18x SuperDrives with double-layer support.
Accessories include: Magic Trackpad, Apple Battery Charger, wired Apple Mouse, wireless Apple Keyboard, Mini DisplayPort to DVI Adapter, Mini DisplayPort to Dual-Link DVI Adapter (for 30-inch DVI display), Mini DisplayPort to VGA Adapter, the AppleCare® Protection Plan; and pre-installed copies of Mac OS X Snow Leopard Server; iWork®, Logic Express 9, Final Cut Express 4 and Aperture 3. Complete options and accessories are available at www.apple.com/macpro.
*Testing conducted by Apple in July 2010 using preproduction Mac Pro 12-core 2.93 GHz units and shipping Mac Pro 8-core 2.93 GHz units, all configured with 6GB of RAM. Based on render performance of Maxwell Render 2.0.3 using Benchwell's sculpture.mxs. Performance tests are conducted using specific computer systems and reflect the approximate performance of Mac Pro.
**Testing conducted by Apple in July 2010 using preproduction Mac Pro 12-core 2.93 GHz units configured with 6GB of RAM, 1TB 7200-rpm hard disk drive and 512GB solid-state drive. Testing conducted using Iometer 2006.07.27 with a 30-second ramp-up, 5-minute run duration, 128KB request size, 8 outstanding IOs, and 150GB test file. Average rotational media performance calculated by creating the test file on the outer, middle and inner sectors of the drive and averaging the results from all three measurements. Performance tests are conducted using specific computer systems and reflect the approximate performance of Mac Pro.
***EPEAT is an independent organization that helps customers compare the environmental performance of notebooks and desktops. Products meeting all of the 23 required criteria and at least 75 percent of the optional criteria are recognized as EPEAT Gold products. The EPEAT program was conceived by the US EPA and is based on IEEE 1680 standard for Environmental Assessment of Personal Computer Products. For more information visit www.epeat.net.
Apple designs Macs, the best personal computers in the world, along with OS X, iLife, iWork, and professional software. Apple leads the digital music revolution with its iPods and iTunes online store. Apple is reinventing the mobile phone with its revolutionary iPhone and App Store, and has recently introduced its magical iPad which is defining the future of mobile media and computing devices."
Tech&Hack