Post con tag
20
Oh boy. New Air? Verizon iPhone? Jobs grows a huge beard? Probably not. Apple wants to talk about "what's new for the Mac," which could mean some hardware — but the company definitely wants to talk software too. See that lion sneaking around behind the logo? Apple is bringing the media out to Cupertino to discuss (amongst other things) the next version of OS X. That's right — a non-mobile product. If you think it's too early for 10.7, don't worry — last time we did this dance, the company previewed Snow Leopard about a year before it hit your screens.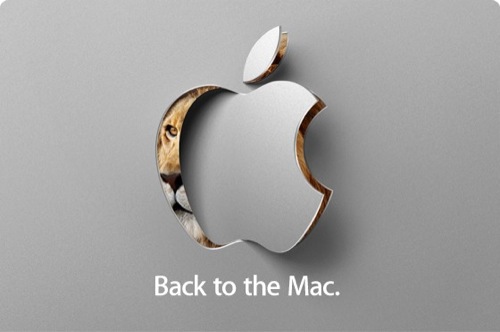 Apple ha appena inviato alla stampa statunitense gli inviti per un evento speciale dal titolo "Back To The Mac" che si terrà a San Francisco il 20 ottobre prossimo. L'indicazione è abbastanza chiara: quello che si terrà è un evento che con il settore mobile avrà ben poco a che fare. L'ìpotesi, suggerita dalla presenza del felino che si intravede dietro la Mela, è che l'occasione servirà a Steve e soci per tenereun'anteprima del nuovo Mac OS X 10.7.
Quello che si scorge è chiaramente un leone: forse che il nome del nuovo sistema operativo Desktop sia proprio Mac OS X 10.7 Lion? Lo sapremo con ogni probabilità mercoledì prossimo. Anche se di un'anteprima dovesse trattarsi, è bene ricordare che nel caso di Snow Leopard dalla prima preview pubblica alla release del sistema operativo è passato un anno buono. Probabilmente avverrà lo stesso a questo giro conla nuova iterazione di Mac OS X.
Non è da escludere che Apple possa cogliere l'occasione anche per rinnovare la gamma dei portatili, a tiro per un upgrade stagionale, in vista del periodo natalizio. Già da qualche tempo si vocifera ad esempio di un nuovo MacBook Air da 7″.
Tech&Hack